Using a specially-built, 1.3-meter telescope at Siding Spring Observatory near Coonabarabran, the SkyMapper Southern Sky Survey is producing a high-fidelity digital record of the entire southern sky for Australian astronomers. Learn More →
Latest Data Release
Jun 6, 2017
Updated Dec 13, 2017
20,200 deg2
285,159,194 objects
66,840 exposures
2.1 billion detections
Matched against 2MASS,
AllWISE, APASS, Gaia,
GALEX, Pan-STARRS1,
and UCAC4
---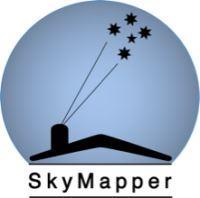 SkyMapper's Southern Sky Survey is led by the Research School of Astronomy and Astrophysics at the Australian National University, in collaboration with seven Australian universities and the Australian Astronomical Observatory. The goal of the project is to create a deep, multi-epoch, multi-colour digital survey of the entire southern sky. This will facilitate a broad range of exciting science, including discovering the oldest stars in the Galaxy, finding new dwarf galaxies in orbit around the Milky Way, and measuring the effects of Dark Energy on the Universe through nearby supernovae.
On this site you can read about SkyMapper and its surveys, browse the latest data releases and query images and catalogues using simple forms or Virtual Observatory web services. Before downloading or publishing data we ask that you review the policies section to familiarise yourself with the authorship and protected science policies. As part of SkyMapper's status as a National Facility, Australian astronomers will typically enjoy exclusive access to each data release for 12-18 months. International astonomers are welcome to use the data after such time, or collaborate with Australian colleagues. Please contact us for more information.
---
Latest News
Featured Publication: Giant Flares from Little Stars | 29 Oct 2019
The SkyMapper team has determined how often M dwarf stars, the most common and longest-lived stars in our galaxy, have energetic outbursts. These tiny, red stars often undergo giant flares that may impact the habitability of exoplanets around host stars such as TRAPPIST-1 or Proxima Centauri. The flares also show up in searches for other explosive events in the universe -- like supernova explosions, gamma-ray bursts, and kilonovae (the stellar collisions detected by gravitational-wave observatories).
The new discovery from this work is that the flaring fraction is nearly constant in the "Solar neighbourhood", regardless of the M dwarf temperature, with flares occurring in about 1 out ...