Using a specially-built, 1.3-meter telescope at Siding Spring Observatory near Coonabarabran, the SkyMapper Southern Survey is producing a high-fidelity digital record of the entire southern sky for Australian astronomers. Learn More →
Latest Data Release
Feb 27, 2019
21,000 deg2
505,176,667 objects
121,494 exposures
4.7 billion detections
Matched against 2MASS,
AllWISE, ATLAS Refcat2,
Gaia, GALEX, Pan-STARRS1,
and UCAC4
---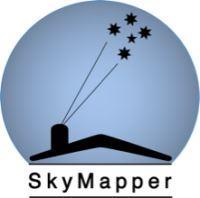 SkyMapper's Southern Survey is led by the Research School of Astronomy and Astrophysics at the Australian National University, in collaboration with seven Australian universities and the Australian Astronomical Observatory. The goal of the project is to create a deep, multi-epoch, multi-colour digital survey of the entire southern sky. This will facilitate a broad range of exciting science, including discovering the oldest stars in the Galaxy, finding new dwarf galaxies in orbit around the Milky Way, and measuring the effects of Dark Energy on the Universe through nearby supernovae.
On this site you can read about SkyMapper and its surveys, browse the latest data releases and query images and catalogues using simple forms or Virtual Observatory web services. Before downloading or publishing data we ask that you review the policies section to familiarise yourself with the authorship and protected science policies. As part of SkyMapper's status as a National Facility, Australian astronomers will typically enjoy exclusive access to each data release for 12-18 months. International astonomers are welcome to use the data after such time, or collaborate with Australian colleagues. Please contact us for more information.
---
Latest News
DR2 Available to the World | 25 Aug 2020
The SkyMapper Team is pleased to announce that Data Release 2 (DR2) of the Southern Survey is now publicly available to all users around the world. It is deeper, wider and more accurate than DR1. DR2 improves on DR1 notably by
Adding Main Survey images; some areas are now complete to 21 mag instead of 18 mag
Nearly hemispheric coverage with deep i/z-band images
Greater coverage of the Galactic plane
Greater homogeneity of photometric calibration using Gaia DR2 as primary reference
Improved photometric precision (internal reproducibility 0.01 mag in uv, 0.007 mag in griz)
Improved PSF magnitudes for ...